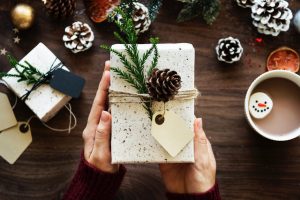 If you have a hard-to-shop-for loved one, you know how difficult finding the right gift for them can be. What do you give to the person who has everything? This holiday season; why not consider something you might not have thought of before – HVAC. We'd like to share with you some ideas that can help make the season bright – and more comfortable.
Here are three HVAC-related ideas that can help you finish off your holiday shopping list:
Smart Thermostats
Smart thermostats have changed the way people do home comfort over the last few years. This technology enables people to have control over their heating and cooling systems like never before. More than a programmable thermostat, smart thermostats can generally be controlled remotely, from a Smartphone, tablet or computer. That way, the homeowner can keep household temperatures regulated, even when away from home. Also, smart thermostats are usually fairly simple to use, which makes them ideal for almost anyone. There are even smart thermostats on the market that have "learning" capabilities, so they know when you're home, when you're away, and your preferred home temperatures during these times.
Ductless Heating & Cooling
It's a modern trend that people convert areas of their homes like basements and garage spaces into personal enjoyment areas, such as crafting and hobby rooms, music rooms and the much-sought-after "man cave." However, these rooms may not exactly be the paragon of comfort, as they are often not connected to the home's duct system. Luckily, ductless heating and cooling is available for these spaces, making them as comfortable and usable as the rest of the house, no matter what the weather outside is like. Ductless systems require no additional ductwork, are efficient and non-obtrusive, and generally can be installed in a short period of time with minimal construction work.
Smoke Detectors & Carbon Monoxide Detectors
There's no better way to let someone know you love them than to show them you care about their safety. Giving a gift of new smoke and carbon monoxide detectors might not seem very glamorous, but it's one of the most thoughtful gifts you can give. There are devices on the market that can warn you of smoke or carbon monoxide, even when you're not at home. When you count on T.F. O'Brien to help, we can provide you with advice and best placement of your smoke and CO detectors.
This year, give a memorable gift that keeps on giving – HVAC from T.F. O'Brien.
Contact us today to learn more about how we can help. Just give us a call at 516.488.1800 and we'll be happy to help you make someone's holiday extra special this year.