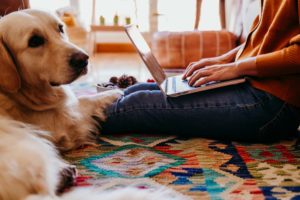 Winter weather means that homeowners are running their heating equipment a lot more frequently. In homes that have forced air heating systems, the indoor air very often becomes drier. While in the summer, we want less humidity in our homes, in the winter months it's better to have humidified air.
Humid air makes people feel warmer, which is why in the summer people often opt for air conditioning and dehumidification for their homes. For the same reason, people may want to humidify their homes in the winter – to help them feel warmer and for a number of other positive benefits.
What are some symptoms of overly dry air?
The telltale signs of overly dry home air are generally pretty easy to spot. If the air in your home is too dry, you probably are noticing a lot of concerns that may be related to it. These include:
Creaky wooden fixtures, like floors and stairs
Cracking and warping in furniture or wood
Excessive static cling
Itchy, flaky skin
Dry mucous membranes (nasal passages/eyes)
Houseplants need to be watered more often
Fortunately, humidifying the air in your home is an easy fix for most of these concerns. Depending on your needs, you may also find that a whole-house humidifier provides the greatest benefit to you and your family.
How is a whole-house humidifier different than a room humidifier?
The principle of a whole-house humidifier and a room humidifier is the same – to deliver humidity into the air of your home. However, both of these humidifiers do exactly what they say – one delivers moisture to an individual space in your home; the other, all throughout your home.
How does a whole-house humidifier work?
Whole-house humidifiers actually are installed in conjunction with your furnace and your ductwork, so they send a mist into your home's airflow, sending it throughout the house whenever your furnace runs. They require very little maintenance – because they use water from your plumbing system, you don't have to worry about filling them. And, they're efficient to operate, so you won't have a huge added expense to your electric bill.
Whole-house units do require installation by a qualified HVAC technician and a small amount of annual maintenance if your home tends to have hard water. Otherwise, these humidification systems are pretty much set it and forget it – the only thing you'll notice is improved indoor air and greater comfort.
How can T.F. O'Brien help me with whole-house humidification?
At T.F. O'Brien, we're pleased to offer quality whole-house humidification systems to our customers. We'll provide you with the installation of your system, and any additional maintenance you might need.
To learn more about our whole-house humidifiers, simply give us a call at 516.488.1800, and we will be more than happy to help you!