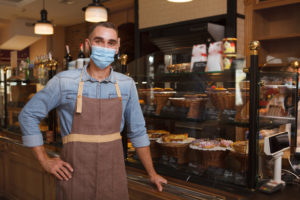 T.F. O'Brien residential customers know that we strive for complete customer satisfaction when it comes to keeping their home comfort systems in great shape. But, did you know we can offer the same level of service for your business? When you choose us for your commercial heating and cooling needs, we'll work hard to make sure your staff and your customers are as comfortable as possible.
At T.F. O'Brien, we're able to help businesses not only with their heating and cooling needs, but with the air filtration requirements companies have been faced with since the COVID-19 pandemic. We can help ensure that your space meets state regulations, helping you, your employees and your customers stay safer.
T.F. O'Brien offers a full suite of commercial services.
Just like we provide a complete range of HVAC services to our residential customers, we offer full-service HVAC to our commercial clients as well. We can provide you with heating and cooling installation, maintenance, and repair services, as well as indoor air quality products. We'll work with you from the start to the finish of your project, making sure that you're completely satisfied with our services.
We take great pride in helping businesses just like yours every day – see what Louis Basso, founder of Alcott HR, had to say:
"We required a complete HVAC update on our 37-year old building. Not only did we want to replace our old equipment, but we also wanted to add equipment that could scrub the air for the staff working here during COVID-19. We called upon T.F. O'Brien to assist us, and they replaced our system, including indoor air quality products, in stages starting at the beginning of fall. Our system is fully operational now, and working very well," Basso said.

"The staff at T.F. O'Brien is great to work with. There is always a real person answering the phone, and the customer service experience is an excellent one. We like that they're a family business while having the expertise and experienced staff to get the work done professionally and effectively. And, many of the people working there have been with T.F. O'Brien for many years, which is a testament to a good organization. I have no hesitation in recommending them to other businesses."
Let us help you with your commercial HVAC project.
Contact us today to learn more about these commercial HVAC services:
When you need commercial HVAC services for your business or organization, just give us a call at 516.488.1800 or fill out our convenient contact form, and we'll be happy to assist you.