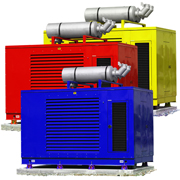 You can do any number of things to help ensure the comfort of your home for yourself and your family — from properly maintaining your heat pump to installing a programmable thermostat. However, without power, these efforts are pointless. Hurricanes and winter storms are fairly common occurrences on Long Island, which is why many homeowners in the area are installing an automatic standby generator.
These generators offer many benefits for homeowners, particularly when power outages occur.
Benefits of an automatic standby generator
A severe storm near your home can easily knock out power for days at a time, as we know all too well. As a result, you might lose any food you have stored in your refrigerator, in addition to any medications that are affected by temperature extremes. Some home occupants rely on electrically powered medical equipment such as ventilators. The loss of power for these individuals is a serious issue. Even for those who have no serious health problems, having a standby generator is a great convenience when it comes to maintaining a comfortable home, particularly when temperatures are extreme.
Portable generators versus standby generators
Automatic standby generators offer many advantages over portable units. For instance, while portable units have to be refueled by hand with gasoline after a few hours of operation, automatic standby generators are commonly fueled by natural gas, and thus are directly connected to the home's gas fuel line. This means the automatic standby generator is always ready to be used, and will automatically start up when it detects that the power has gone out. In addition, a large generator can produce enough power for your entire home, while a portable unit might only be able to power a few items.
Because it connects directly to your home's utilities, you should employ a professional to install an automatic standby generator. If you have any questions about this process, please feel free to contact T.F. O'Brien Cooling & Heating. With over 75 years of experience, we are proud to serve the people of Long Island, and our team of experienced professionals is more than happy to help you.
Our goal is to help educate our customers about energy and home comfort issues (specific to HVAC systems). For more information about other HVAC topics,  download our free Home Comfort Resource guide.
Image via  Shutterstock.com