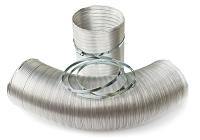 A well-designed home duct system is a fundamental component for maximizing your house's overall energy efficiency.
There are three important requirements when building a duct system designed to deliver maximum heating and cooling with minimal energy consumption: The system needs to be adequately sized, free of leaks and should run through conditioned spaces as much as possible.
Three key components for a well-designed home duct system
Compact duct system –  Prior to the 1980s, energy efficiency wasn't a consideration in most ductwork design. Contractors used the square footage of a home and made calculations using rule of thumb measurements. These measurements didn't account for things like dropped or vaulted ceilings, multiple stories and other aspects which can effect the microclimates in various rooms in the house. For maximum efficiency, your home duct system should be designed early and in collaboration with other sub-contractors. HVAC contractors should use design guides published by the Air Conditioning Contractor's of America (ACCA) like Manual J, which calculates heating and cooling loads, and Manual D, which outlines proper duct sizing. If your home was built prior to 1990, you may want to have your duct system re-evaluated.
Seal the leaks –  Improperly sealed ducts leak conditioned air and allow unconditioned air into the system. This compromises indoor air quality and lets pests, debris and mold/mildew to settle into the ducts. Make sure your ducts are sealed and insulated properly to maximize energy efficiency, especially if they're installed in unconditioned spaces. Look for ductwork that's manufactured with sealed seams or use a high-quality sealing material to reinforce seams and joints.
Run ducts through conditioned spaces –  Your ducts can lose a significant portion  of your heating and cooling energy when they run through unconditioned spaces, such as the attic or basement. Keep them running through interior walls and conditioned spaces to conserve energy. If they must run through an attic, basement or along an exterior wall, upgrade the insulation in those areas.
For more information on your home duct system or  HVAC issues, contact T.F. O'Brien's Cooling & Heating. We've provided residential and commercial energy-saving solutions to Long Island homeowners since 1934.
Our goal is to help educate our customers about energy and home comfort issues (specific to HVAC systems).   For more information about other HVAC topics,  download our free Home Comfort Resource guide.
Image via  Shutterstock.com