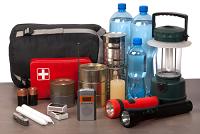 There's no way to predict exactly what area will be hit by a storm, so it's a good idea to prepare your home and family in advance. Then you'll be ready long before a named hurricane takes aim at your town.
The most common side effect of a storm is power outage. These tips will help you deal if and when the power goes out.
Make a plan: Gather basic supplies, preferably at the start of the summer season, which is the beginning of the peak time for hurricanes and other large storms. Even heavy air conditioner use can trigger a power outage if enough homes are overdoing it, and being prepared will help you cope with any loss of power. Have important phone numbers and backup power supplies. Hand-cranked lanterns or flashlights, powerful glow sticks and battery-operated fans can help keep everyone comfortable if there's a power failure.
Review instruction manuals: If you have a standby generator but only use it when the power goes out, you may not be familiar with how to get it started and use it to power your home. Review the manual and some basic safety precautions prior to the stormy season and you won't have to worry about struggling in the dark or putting your family at risk.
Food and water: Pull together some basics at the start of the storm season, including plenty of bottled water and non-perishable food items for every member of your household. Granola bars and other pre-packaged items store well and are easy to break out when you need them most. Having these items on hand can help you avoid a crowded grocery store when the power goes out.
For more information on how you can be prepared in case the power goes out, or for any other home comfort needs, contact the pros at T.F. O'Brien Cooling & Heating. We're proud to serve homeowners throughout Long Island.
Image via Shutterstock.com