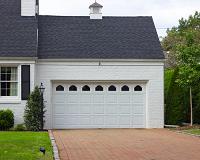 If your home has an attached garage, contaminated air from your garage could be degrading the quality of your indoor air.
When you park your vehicle inside it, or store paint, yard equipment, or pesticides and herbicides, the gases can enter your home through the adjoining wall and the connecting door.
Health Canada, a federal agency, conducted a study of homes in Ontario that had attached garages and found measurable levels of benzene, a carcinogen, in these homes. Homes whose garages were detached had none. The study also found that even small cracks could bring in air pollution. It happens when entering or leaving the garage using the door to the home or from a leaky adjacent wall.
Several approaches work to reduce or stop the flow of pollutants from the garage.
Use caulk to seal the adjoining wall at the ceiling and floor seam. If wires or pipes enter your home from the garage, there can be small crevices around them that are easy to seal with expanding foam.
Apply fresh weatherstripping to the connecting door.
Exhaust the polluted air from the garage using a ventilating fan.  These ventilating fans are fairly easy to install, and they prevent air from your garage building to hazardous levels. A fan can be installed in the wall and put on a timer, so that it runs after you park your car inside or start it up to leave your home. The fans are inexpensive and require little electricity to run.
Sealing an attic hatch and ductwork located in the garage. Some homes have attic access through the garage ceiling, and if your HVAC ductwork also runs through the attic, it could be picking up hazardous pollutants from air being pulled up through the garage. Fixing the duct leaks and sealing the hatch eliminate this hazard, along with lowering your heating and cooling bills.
If you'd like to learn more about indoor air quality, your ducts, and the air from your garage, contact T.F. O'Brien Cooling & Heating. We've provided HVAC services for Long Island since 1934.
Image via  Shutterstock.com