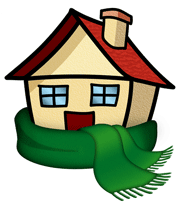 The cold grip of winter isn't far off, which means that energy consumption is going to be high to keep your home comfortably warm.
However, you can take steps to cut your energy consumption by following these tips that help you reduce the amount of energy you need during our prolonged heating season.
Seal the leaks
When your home has air leaks, it's equivalent to heating the outdoors. Here's how to resolve leaks:
Inspect the joints between the window frames and your home's exterior and seal any cracks with caulk.
Apply fresh weatherstripping to the exterior door frames and use draft stoppers at the bottom if there's any kind of gap.
Look for small holes around places where pipes, wires or cables enter your home. Expanding foam works well for larger holes.
Deal with windows
Inefficient window glass can let a lot of heat out of your home, increasing your consumption. If Energy Star or thermal windows aren't in your budget, use storm windows outside to cut heat loss, or insulate them from the inside by using clear plastic window-sealing kits. Close drapes at night to retain more heat indoors.
Lower water heating costs
While half of your energy use may go toward heating your home, your water heater is next in line for raising monthly utility bills. Lower water heating costs by:
Insulating the water heater. Home centers sell jackets that you can wrap around the water heater to cut the standby losses
Turn the water heater's temperature down to 120 degrees. Not only does a lower temperature cut energy use, it also lowers the amount of hard water sediment that forms at the bottom of the tank, increasing its efficiency and prolonging its life.
Address the heating system
Have an HVAC contractor service your heating equipment to lower your bills and increase your family's safety this winter. When HVAC professionals adjust and clean your system, it will run more efficiently, saving energy.
If you'd like to learn more about lowering energy consumption through HVAC maintenance, contact T.F. O'Brien Cooling & Heating. We've provided HVAC services for the Long Island area since 1934.
Our goal is to help educate our customers about energy and home comfort issues (specific to HVAC systems).   For more information about other HVAC topics,  download our free Home Comfort Resource guide.
Image via  Shutterstock.com