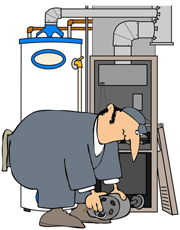 Your old gas-fired furnace could be costing you a good deal of money because of its relative inefficiency compared to newer models. If you want to increase your energy efficiency and save some money, you have two options for that old furnace: Repair or replace it.
If you decide to retrofit it, there are a good number of modifications to choose from:
Vent dampers: This common retrofit obstructs loss of heat from your furnace's vent by closing it while it's not firing.
Intermittent ignition device: Older gas-fired furnaces have pilot lights that stay on continuously. This modification replaces those with a device that only stays on while it's needed during the cold fall and winter months.
Downsizing the burner: Most furnaces are bigger than required by today's more energy-efficient homes. If your old furnace is modified to only run at partial power, it will be able to run more efficiently and trim your budget in the process.
Making the decision to repair or replace your gas-fired furnace will depend on a couple of factors. You need to know how old your furnace is. At a certain point, they're not worth the investment. If you're considering retrofitting, you will need to have a plan to stick to. These modifications can be rather expensive, and if given enough time, they will pay off.
However, if you modify your gas-fired furnace and only keep it around for five more years, then you might not break even. In fact, some of these modifications don't pay for themselves until after almost a decade of use. To decide whether or not retrofitting will be worth the cost, consult with an HVAC professional.
If you're looking for more expert advice on gas-fired furnaces or other matters regarding home comfort, contact us at T.F. O'Brien Cooling & Heating. We've been proudly serving the residents of Long Island since 1934.
Our goal is to help educate our customers about energy and home comfort issues (specific to HVAC systems).  For more information about other HVAC topics, download our free Home Comfort Resource guide.
Image via Shutterstock.com