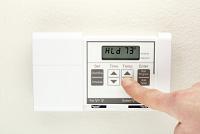 When you leave your Long Island home for a day at work, do you need to heat it like you do when you're home? Absolutely not, yet turning down the thermostat is just one more thing to remember on your way out the door. To make this job simpler, you can install a programmable thermostat to take care of this for you, so you can save money and energy while still coming back to a comfortable home.
According to the Dept. of Energy, a programmable thermostat can help you save money by varying the temperature of your home at different times during the day. Their website says, "You can save money on your heating and cooling bills by simply resetting your thermostat when you are asleep or away from home. You can do this automatically without sacrificing comfort by installing an automatic setback or programmable thermostat."
A programmable thermostat is a smart piece of technology that allows you to set the temperature at different times of the day. Why heat the house to 70 degrees when you're at work? Set the thermostat to drop the temperature and save while you and your family are out of the house.
You can also use the thermostat when you're sleeping. Go to bed with the house at a comfortable temperature, then instruct the thermostat to adjust the temps well after you've fallen asleep. You won't know the difference while you're sleeping, but when you get the energy bill that shows your energy savings, you'll appreciate the addition of the device to your home.
As you shop for a new thermostat, consider some of the latest innovations in these units, including:
Online access – Tell your thermostat what you want it to do from your computer before you leave work.
Mobile apps – Use your smartphone to program your thermostat wherever you are.
Adaptable technology – Your thermostat can actually learn your habits and desires.
Thermostats are getting smarter, and the benefits are significant for your family. If you're having trouble programming or installing your new, smarter thermostat, the pros at T.F. O'Brien Cooling & Heating can help you set up your programmable thermostat so you can set it and forget it, all while benefiting from the energy savings these units bring. We proudly serve Long Island homeowners.
Our goal is to help educate our customers about energy and home comfort issues (specific to HVAC systems).  For more information about other HVAC topics, download our free Home Comfort Resource guide.
Image via Shutterstock.com