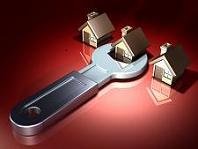 As summer comes to a close and cooler fall days arrive, there's a lot of prep work to be done both inside and outside your home. Follow this fall maintenance checklist to help safeguard your wallet and your home.
Fall Maintenance Checklist for Long Island Homes
Make sure your heating system works properly. Now's the time to schedule annual preventive maintenance for your furnace. A professional heating contractor can ensure that your furnace is operating properly and safely, giving you peace of mind as well as an efficient HVAC system.
Have your wood stove or fireplace inspected. Be sure to have it looked at by a licensed chimney sweep who can ensure that the chimney is clean and glass doors are free of cracks.
Change the direction of your ceiling fan. Blades moving in a clockwise fashion will send air upward, which then forces the warm air near the ceiling down into the occupied areas of the room. Using ceiling fans can help lower heating costs since you'll be able to turn the thermostat down a notch or two.
Check smoke detectors and carbon monoxide detectors. It's smart to take this opportunity to replace batteries and test the alarms to ensure they're operating properly.
Seal air leaks. Check the seals on all of your windows and doors for any drafts or cracked windows and use caulk and weatherstripping to remedy any leaks that are found.
Tackle end-of-season A/C maintenance. Clean the outdoor unit with a garden hose and remove any leaves or other debris that's piled up around it. Then loosely cover the unit to protect it from inclement weather, but not too tightly, since ventilation is important to prevent rust from forming on the equipment.
Have questions about your home's fall maintenance checklist or any other home comfort issues? Contact the pros at T.F. O'Brien Cooling & Heating. We've been proudly serving Long Island homeowners for over 75 years.
Image via Shutterstock.com