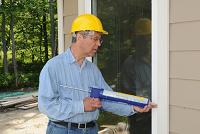 Long Island can be a rewarding but expensive place to live. If you're looking for ways to save money, consider performing an energy evaluation of your own home. Taking the time to perform this simple task could save you 30 percent or more on your energy bills, and it won't take longer than a weekend.
Consider the following factors as you perform your home evaluation.
Air leaks
Combined, all those tiny air leaks throughout your home could be significantly affecting its energy efficiency. Check around the following areas for leaks:
•      Electrical outlets and switch plates
•      Door and window frames
•      Baseboards and where the walls and ceiling meet
•      Fireplace damper and the chimney
•      Attic hatches
•       Window-mounted air conditioners
To find these leaks, use a lit incense stick or dampen your hand. Moving a lit incense stick around an area with a leak will cause the smoke to move. Similarly, you can feel the cooler air from a leak on your wet hand. Then, patch the leaks using caulking or weatherstripping.
Insulation
Long Island has a rich history, which includes a fair amount of older homes with inferior insulation that can no longer stand up to our cold winters and hot summers.
Evaluate your home's insulation in areas you can access, such as in the attic and basement. If insulation appears compacted or corroded, it's likely not performing up to par. And it should have an R-value of 38 to 60. Check to see that your hot water pipes and ductwork are wrapped in insulation, as systems that are improperly — or not at all — insulated will adversely affect your home's overall energy efficiency.
Heating and cooling units
The overall efficiency of your HVAC equipment will directly affect your energy bills. Here's what you can do:
Change your air conditioner and furnace filters, if applicable.
Evaluate the age of your heating and cooling systems. If they're more than 15 years old you may need to consider  replacing the equipment. The decision to upgrade to more energy efficient models can save you money in the long run.
An energy evaluation is an effective tool for finding areas throughout your home that are losing energy, and to ultimately save money through upgrades. Don't hesitate to contact T.F. O'Brien Cooling & Heating if you need any more expert advice.
Our goal is to help educate our customers about energy and home comfort issues (specific to HVAC systems).   For more information about other HVAC topics,  download our free Home Comfort Resource guide.