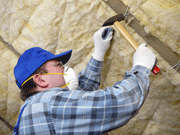 Since keeping a home well-insulated is so important in terms of reducing energy bills and increasing comfort levels, there's a wide variety of home insulation types that are available to homeowners. Different types of insulation will work best for different spaces, so it's important to do some research and choose the right type for your situation.
The most important factor is the location where you want to add home insulation. Spend some time examining the space and answer the following questions:
How accessible is the space? Some insulation types are better for tighter spaces than others.
How much home insulation will you need? Factor in the costs of the insulation itself and the installation.
How much space is available for insulation? If your insulation is thicker than the space available, this can cause compression, which reduces the R-value.
What is the recommended R-value of that area (e.g., attics) for homes in Long Island?  Different insulation types have different R-values.
The four most common types of insulation are blanket insulation, loose-fill insulation, rigid board insulation and spray foam insulation.
Blanket insulation is used for unfinished walls, foundation walls, floors and ceilings. It's installed between wood frames and rafters. Inexpensive and widely used, blanket insulation can be installed by homeowners, but a poor installation job can reduce its R-value.
Loose-fill insulation is made up of loose fibers and fiber pellets. This type of insulation is usually used for irregularly shaped areas, cavities, existing finished areas and around obstructions and is often seen in attics. Loose-fill insulation is usually blown into a space with the use of special equipment, requiring a professional.
Rigid board insulation is usually used for roofs, basement walls, floors, ceilings and around concrete slabs. It's thin, comes in varying thicknesses and has a high R-value for its size.
Spray foam insulation is designed for small spaces, cracks and irregularly shaped areas. It can be applied by homeowners or professionals. It can cost more than blanket insulation, but it ensures an airtight barrier.
For more expert advice about home insulation types and other issues related to home comfort, please contact us at T.F. O'Brien Cooling & Heating. We're proud to serve the HVAC needs of Long Island homeowners.
Our goal is to help educate our customers about energy and home comfort issues (specific to HVAC systems).  For more information about other HVAC topics, download our free Home Comfort Resource guide.
Image via Shutterstock.com