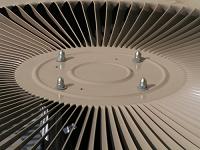 Are you considering investing in a heat pump as an efficient means of heating and cooling your home?
The latest HVAC technology, including advanced heat pump features, have all been focused on increasing efficiency and reducing energy waste to keep your home more comfortable and reduce your utility bills.
Here are some of the latest features found on new heat pumps:
Two-speed compressors – Essentially, this compressor offers a low and high gear for your heat pump that allows it to use only as much electricity as needed to temper the air. This type of compressor also reduces wear and tear on the heat pump.
Variable-speed motors – Similarly, this feature allows the fan mechanisms within the system to operate at different speeds to maximize functionality while minimizing energy waste. They also operate more quietly.
Scroll compressors – Due to a clever tweak in their design, these compressors are quieter, last longer and offer much greater efficiency while in heating mode.
Backup burners – These improve the heat-delivering ability of heat pumps in cold climates like ours by adding a burner to add more heat to the system. The burner can use heating oil, natural gas, propane or even wood or coal. Because the backup burner only kicks in when the system can't provide enough heat from the outside, it's very efficient.
Desuperheater – This feature takes heat generated while the heat pump's cooling your indoor air and uses it to heat water — up to two or three times more efficiently than an electric water heater.
Choosing a system that incorporates one or more of these advanced heat pump features will pay off in increased comfort and a drop in your utilities.
To discuss heat pump features, or any other aspect of your home HVAC system, contact us at T. F. O'Brien Cooling & Heating. We specialize in helping Long Island and Western Queens homeowners keep their homes comfortable.
Image via Shutterstock.com