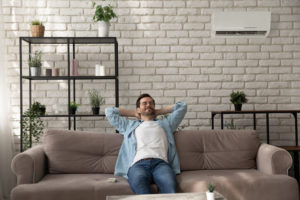 If you have a ductless system installed in your home, there's no doubt you're enjoying the energy efficiency, the room-to-room flexibility, and the improved quality of your indoor air. But like any type of home comfort system, you must keep your ductless heating and cooling system properly maintained. That way, you can count on better operation and efficiency, and longer system life.
If you rely on your ductless system to both heat and cool your home, it's a good idea to have it maintained in the fall (before the cold weather hits) and the spring (before the temperature starts to soar). That helps ensure that you'll have the heating or cooling you'll need when the time comes. While getting professional maintenance from a qualified ductless contractor is important, though, you should also take some maintenance measures yourself.
Five Ways to Maintain Your Ductless System
Fortunately, it's easy to help keep your system running properly and efficiently between visits from your HVAC professional. Here are a few tips on what you can do to help maintain your ductless heating and cooling system all year:
Keep the indoor portion of your unit clean. This is as simple as including your ductless unit in your weekly dusting routine. The reason you want to do this is that if you allow dirt, dust, and other particulates to accumulate on your system, they can find their way inside your unit, which can cause problems. To prevent this, just wipe down the unit with a damp cloth.
Keep the outdoor portion clean, too. You'll want to make sure that the outdoor part of your unit is free of dirt, debris, and anything that could cause clogging, too. Turn the unit completely off, and then use the garden hose to gently spray off your unit. Remove any remaining debris with a cleaning cloth.
Make sure there is space around your unit. Keep larger pieces of art, shelving, and bookcases clear of your unit by about four feet, and don't place anything directly in front of it that might obstruct the airflow, such as large furniture or seasonal decorations (such as Christmas trees). Space for adequate airflow will help your system perform much more effectively and efficiently.
Remove and clean filters regularly. Why make sure your filters are clean frequently? First of all, dirty filters cause your ductless system to work harder and less efficiently. Secondly, dirty filters reintroduce particles into the air in your living space, causing diminished air quality. Simply wipe the filters down with a clean, dry cloth every four to six weeks.
In harsh weather, keep an eye on your outdoor unit. You'll want to make sure your unit is protected from snow and ice as best as possible, and you'll want to check it regularly in the event of accumulation. Remove any built-up precipitation from the unit, and clear the space around it.
T.F. O'Brien can help you keep your ductless system maintained properly.
Aside from measures you can take on your own, having an HVAC professional from T.F. O'Brien help you maintain your system is important, too. They'll be able to check the inner workings of your ductless heating and cooling system, such as making sure drain hoses aren't blocked and there are no refrigerant leaks. They'll look at your system's electrical components and compressor and make sure those are up to snuff, too. And, they can catch any small concerns before they become larger and more expensive ones.
If you'd like to learn more about how you can help your ductless heating and air conditioning system run more effectively and efficiently, and how T.F. O'Brien can help, all you need to do is give us a call. We're experts in ductless installation, maintenance, and repair. You can count on us to help you find the right ductless maintenance program for your home. Call us at 516.488.1800, and we will be happy to assist you.