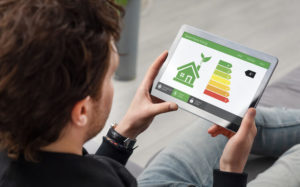 If you've been thinking about replacing your old heating and cooling equipment, you might be concerned about the cost. While it's true that HVAC equipment can be an expense, it is a necessary component of your home. Not only does your HVAC system keep you and your family comfortable, but it also helps keep your home in good condition, too. An HVAC system helps keep a regular temperature throughout your home, year-round, and that's good for structural integrity, plumbing, flooring, and more.
What you may not know about today's heating and cooling equipment is that it is far more energy-efficient than its older counterparts. And while better energy efficiency is good for the planet, it's also good for your home energy budget. In this article, we'll compare the costs of older systems with today's high-efficiency solutions, and talk about some alternative types of HVAC equipment that can help you stay comfortable and save even more energy.
How efficient is a 20-year-old HVAC system?
While it seems hard to believe, the year 2000 was more than 20 years ago. Crazy, right? But, many people still have HVAC equipment from 20 years ago in their homes. Chances are, this equipment is not providing you with the best possible energy efficiency. While efficiency standards began to change around 2009, equipment installed before then did not have to meet those rigorous standards.
According to the Department of Energy, a furnace installed in 2002 wastes at least 22 percent of the energy it consumes, meaning it is performing at about 78 percent AFUE. Today's high-efficiency furnaces often provide 95 percent efficiency, meaning it only wastes 5 percent of the energy used. That can translate into some decent savings on energy bills for you!
Air conditioning systems have also improved greatly over the past 20 years. For instance, an air conditioning system installed in 2002 is likely to have a Seasonal Energy Efficiency Ratio (SEER) rating of around 9. The Dept. of Energy suggests that if you upgrade to an air conditioner with a SEER rating of 14, you can reduce your energy consumption by more than 35 percent.
Alternative technologies can help consumers save even more energy.
Because of advancements in heat pump systems, many consumers are choosing to switch over to these types of systems. In the southern states, heat pumps have been used for some time. Over the past few years, advances have been made that allow heat pumps to perform well, even in northern climates. Heat pumps are available that can replace both your central heating and cooling systems, all in one unit. A central heat pump system can keep your home warm in the winter and cool in the summer, and provides excellent energy efficiency.
If you've had electric baseboard heat in your home, a ductless heat pump system can provide better efficiency and year-round comfort. By choosing to replace an old baseboard heating system with ductless, heating costs can be cut by 60 percent, and cooling costs by 30 percent. You'll enjoy comfort all year long, and have better room-by-room control of your home climate as well. Not to mention, ductless can be installed in an area of your home that doesn't have access to the home's central ductwork system, helping to balance out heating and cooling and allowing your current system to operate more effectively and efficiently.
If you're ready for an upgrade, T.F. O'Brien can help.
At T.F. O'Brien, we can help you get the high-efficiency equipment upgrade you need to enjoy better home comfort and save money on your heating and cooling bills. Simply give us a call at 516.488.1800 to learn more or to schedule an appointment with us.