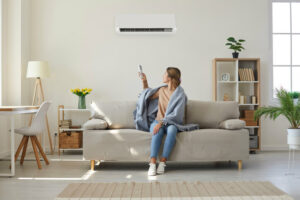 Now that the cooler weather has returned, you're probably gearing up for this year's heating season in your home. Whether you have a gas furnace, boiler, heat pump, or ductless system, you rely on it to keep your family warm and comfortable during the cooler months here on Long Island. If you're not satisfied with your home comfort, it may be time to consider replacing your heating system.
Of course, nobody wants to think about the costs associated with a brand-new system replacement for their home. While there can be some sticker shock when it comes to pricing out a new heating system, the truth is, your old system could be costing you much more in both utility bills and home comfort. Today's heating systems are manufactured with optimal energy efficiency in mind. Replacing an old, inefficient system can actually save you money in the long run.
What choices do I have when considering a heating system replacement?
When it comes time to replace your heating system, you might choose to replace it with the same type of equipment you currently own, such as a furnace or boiler. These aren't bad choices, as you'll simply need to swap out the old machinery with new. And, today's furnaces and boilers provide a much greater level of energy efficiency than their predecessors. For instance, there are systems available that are ENERGY STAR-rated and offer up to 98 percent efficiency. Additionally, many homeowners are choosing ductless heat pump systems as an option.
What makes ductless heating different than traditional heating?
In general, ductless heating relies on a heat pump rather than fossil fuel to heat your home. Heat pumps work by extracting heat from the outside air, even in cold conditions, and pumping that heat into your home. There are some heat pump systems that use the heat from the ground, called geothermal systems. With either kind of heat pump system, you will save money on energy bills because you'll no longer need to rely on fuel to heat your home. And, because heat pump systems are highly energy-efficient, they often pay for themselves in a short amount of time.
Many people opt for ductless heat pump systems because they do not need ductwork to operate. This makes them a great choice for replacing old, inefficient electric baseboard heat. And, if you have a space in your home outside of your duct system, such as an addition, converted garage, or finished basement, ductless heating can offer targeted comfort to those areas without the need for messy and expensive ductwork.
What are some additional benefits of ductless heating?
As we mentioned above, ductless heating does not use fossil fuel to operate, is highly efficient, and is a perfect solution for homes or spaces where adding ductwork is impossible or impractical. There are some additional benefits to choosing ductless heating as well, including:
Heat Balancing: Even if you don't want to add ductless to your entire home, adding a unit to a space that doesn't warm up as well as the rest of the house can help your current heating system operate more efficiently while keeping your family more comfortable.
No Need for Space Heaters: While today's space heaters are safer than their predecessors, whenever you use space heating that relies on fuel to operate, you run the risk of introducing carbon monoxide to your home. Since ductless heating does not use fuel, CO is not produced.
Quiet & Unobtrusive: Many people who own ductless systems remark that they are "whisper quiet" when operating, making them a great choice for bedrooms or home theater rooms. They are generally mounted high on a wall or on the ceiling, so unlike a clunky space heater, you never have to worry about stubbing your toe on them. (At least we hope not!)
Targeted Comfort: Ductless units are generally installed in rooms or zones, so you're able to take greater control of your home comfort. They operate via remote control, with some systems available that even can be controlled when you're away from home from your smartphone or laptop!
Cooling Capability: While ductless heating can help you stay comfortable in the cold winter months, many models also have the capability of cooling your home once the outdoor temperatures heat up. They reverse the process of heat extraction and pump the hot indoor air outside. This makes them a highly efficient, year-round home comfort system.
I want to learn more about my heating options. Can T.F. O'Brien help me?
When you're ready to replace your home heating system, T.F. O'Brien Cooling & Heating can help. T.F. O'Brien proudly serves Long Island, NY. Simply call us at 516.488.1800, and we'll tell you about the different options for heating, including high-efficiency ductless heating, and help you find the solution most suited to your needs.