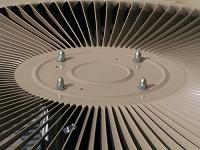 When you're building a new home, you want to install appliances that will help you save money while having the smallest ecological impact. For homeowners in Long Island, optimizing heat pump efficiency is an important factor if you want to stay comfortable throughout the year.
Here are a few points to take into consideration when choosing a heat pump.
EnergyGuide labels
One of the easiest ways to ensure you'll be optimizing heat pump efficiency is to check models' ratings before you buy. There are several ratings you should look for.
The heating seasonal performance factor (HSPF) tells you the efficiency of the electric resistance elements and the compressor. Those with a rating between 8 and 10 use the least BTUs per watt-hour.
The seasonal energy efficiency ratio (SEER) is a measure of cooling efficiency. Although the most efficient models, with ratings between 14 and 18, have higher initial costs, you'll save far more on energy in the long term.
The Energy Star label is typically present on heat pumps with an HSPF of 7 or more and a SEER of at least 12.
Size
You need to choose your heat pump according to the size of your new home. A model that's too large will need to start and stop frequently, which is detrimental to optimizing heat pump efficiency. Sizing calculations are highly complex and should be undertaken by a professional heating contractor.
Components
A contractor can advise you on what components would be most suitable for your new home. Ducts and fans require adequate space to be incorporated into the home design and should be discussed with your builders and architect. You'll also need to choose an appropriate indoor coil unless you opt for a packaged system.
For more expert advice on optimizing heat pump efficiency or any other home comfort issues, contact the experts at T.F. O'Brien Cooling & Heating. We've proudly served Long Island homeowners since 1934.
Image via Shutterstock.com