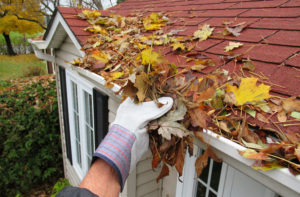 While the weather on Long Island stays milder a bit longer than it does for our neighbors to the north, once the fall season arrives, many of us start to think about the cooler temperatures ahead. Often, we take advantage of the sunny days we have left before winter arrives to get our home ready for the chilly weather. Making sure that your home is comfortable year-round is an important part of homeownership.
Fortunately, there are some simple measures you can take to get your home ready for the changing seasons, most of which you can DIY. Below, we're sharing a few tips that can help you prepare your home this autumn – both inside and out! Keep reading to learn more!
5 Tips to Help You Get Ready for Autumn
Check your home for drafts. Drafty windows and doors mean that conditioned indoor air is escaping outside, and the outdoor air is coming in. That can defeat the purpose when it comes to heating or cooling your home and can cause you to use much more energy than you normally would. Weatherstripping is inexpensive and easy to apply.
Clean out your gutters. During the summer and fall months, your home's gutters can collect lots of organic material, like leaves, twigs, and other vegetation. Free-flowing gutters are important for helping to keep your roof safe and sound once the snow starts to fly. That's because when it melts, clear gutters will direct it away from your home. But if they're clogged, that melted snow won't have anywhere to go – and that can lead to icy buildup.
Take care of the lawn and other outdoor needs. Clean your summer patio furniture and put it into storage for the cooler months to come. Fix any cracks in your driveway or pathways, and make sure your garden hose is drained and disconnected. And, fertilize your lawn to help prevent the winter cold from taking its toll on it.
Change batteries in your smoke alarms and CO detectors. During the month of October, the National Fire Prevention Association, or NFPA, focuses its efforts on fire safety. They encourage homeowners to thoroughly check smoke and carbon monoxide alarms during this time and to make sure fire safety equipment has fresh batteries. It's a simple step that can make an incredible difference.
Change your HVAC system's filter. A clean filter can help ensure that your home comfort system is operating at its best and most efficient. It's also a great time to call your HVAC contractor and get your annual heating maintenance scheduled. That way, you can rest assured that your heating system is clean and running properly, so once the snow flies you'll have the home heating you and your family need.
Let T.F. O'Brien help you get the annual heating maintenance you need.
If you're ready to add heating maintenance to your fall routine, T.F. O'Brien will be more than happy to help you! Our experienced technicians are able to provide comprehensive maintenance on virtually any make or model of heating system. So, even if you didn't install your furnace, boiler, or heat pump with us, we can still help make sure it receives the maintenance it needs. Simply give us a call at 516.488.1800 and we'll be glad to schedule an appointment with you.