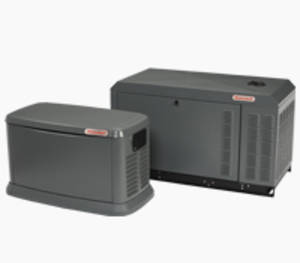 When the power goes out in your neighborhood, usually you can rest assured that it will come back on within a matter of minutes. But when it goes out during a severe weather event, like a hurricane or snowstorm, it can be out for hours – and sometimes even days. And when you have no power for that length of time, it not only can cause disruption and inconvenience, it can be detrimental to the health and safety of you and your family.
If you or a family member relies on electricity for any home medical needs such as oxygen or home dialysis, you know that a prolonged power outage is serious. And, for those who are physically frail, climate control is important – fluctuating indoor temperatures can be detrimental to their health. Not to mention, food spoilage is likely to occur – leaving you in a situation where you have to either discard all the food in your fridge or freezer, or face possible contamination.
Another factor to consider is that power outages can be tough on your home's equipment and plumbing. If your home is without power for a prolonged period of time during a winter storm, your home comfort system can't operate – and that can lead to frozen pipes. Using other heating sources such as fireplaces, wood stoves and kerosene heaters is an option, but according to the NYS Department of Health, these should be used only with extreme caution, as carbon monoxide fumes can build up, causing illness or in the worst cases, death.
What might surprise you, though, is that you can prevent all of these issues by choosing a standby generator for your home. When you have a standby generator installed in your home, you'll enjoy automatic standby protection that backs up the circuits you choose during a power outage. The generator will start automatically within seconds of detecting power loss, and runs on your home's natural gas or LP fuel supply. And, you'll be able to choose a backup option, including essential circuit, managed whole-house or complete whole-house.
At T.F. O'Brien, we're pleased to offer our customers top-quality standby generators from the best brands in the industry. They'll provide you and your family with utility-quality power, quiet operation and a tough exterior, so you know you can rely on them to weather the storm. And, our technicians are qualified to maintain and repair your generator as well, so you'll be able to rely on it for years to come.
You and your family can stay safe, no matter what kind of weather Mother Nature throws at Long Island. With a quality standby generator from T. F. O'Brien, you will never have to worry about being without power again. To find out more about our standby generators and how owning one can benefit you and your family, call T. F. O'Brien today at 516.488.1800, and we will be more than happy to assist you.