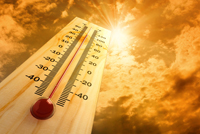 Running your air conditioner 24/7 is enough to counter summer heat gain, but it sure doesn't make your energy bills look very pretty. Here are some helpful tips for keeping your home cooler so your A/C doesn't have to work as hard.
Reflect summer heat gain
Windows: The most heat gain in the average home comes from sun pouring through the windows. Reflect heat away with combination films. These are ideal for Long Island's climate because they don't completely block out the sun, allowing for desirable heat gain in the winter.
Roof: As the second largest contributor to heat gain, the roof requires attention for energy efficiency. Reflect heat away by installing a radiant barrier on the roof's underside. The reflective surface reduces attic heat transfer through the ceiling by 25 percent.
Walls: While not as large of a factor, wall color does impact heat gain somewhat. Light-colored siding reflects heat rather than absorbing it, helping to keep your home cooler.
Block summer heat gain
Insulation: The most cost-effective place to add insulation to an existing home is the attic. Lay several inches of insulation evenly across the floor to achieve an insulation value of at least R-30.
Landscaping: Plant trees on the south and west sides of your home for afternoon shading. Consider using a trellis covered in vines to shade an entire wall of your home. Don't forget low-lying shrubs around the foundation to keep the ground cool.
Window treatments: Exterior options for blocking summer heat gain include louvers, awnings, rolling shades, shutters and solar screens. Interior options include drapes, curtains, cellular shades and venetian blinds.
Prevent built-up heat gain this summer
Interior heat gain: Trade out incandescent bulbs for compact fluorescent ones, limit the use of heat-generating appliances (dishwasher, oven, dryer) during the hottest times of day, and put the computer to sleep when not in use.
Airflow: Run the ceiling fan, open windows and doors when it's nice outside, and vent the kitchen and bathroom when cooking and showering.
For more information about reducing summer heat gain, contact T.F. O'Brien Cooling & Heating in Long Island today.
Image via Shutterstock.com