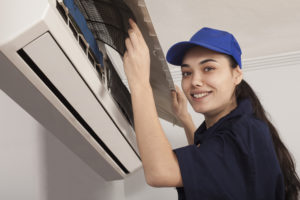 Have you been considering a career in the heating, ventilation, air conditioning and refrigeration (HVAC/R) industry? If you have, you should know that there are many benefits to following this career path. Many times, you'll be able to attend a trade school and receive your certification in a year's time, and then receive additional training and education on the job.
What exactly do HVAC technicians do?
Very generally speaking, HVAC technicians repair, maintain and install comfort systems, such as air conditioning systems, furnaces, boilers, ductless systems and heat pump systems. Additionally, they provide services which include installation, maintenance and repair of ventilation and refrigeration systems.
Most HVAC technicians work in homes, schools, hospitals, office buildings or factories. Some typical duties of HVAC technicians include:
Installation and maintenance of HVAC and refrigeration systems
Installation of electrical components and wiring
Inspection and testing of HVAC systems and components
Explain HVAC concerns and problems to customers
Repair and replacement of parts and systems
Why should I consider a career in HVAC?
People who are interested in pursuing an HVAC career are in luck – it's a growing industry in the United States, and job opportunities are expected to increase at a very steady rate over the next decade. Still not sure if a career in the HVAC industry is the right opportunity for you? Below are seven reasons you might want to consider it.
7 Reasons to Work In The HVAC /R Industry
Job Stability: HVAC is something people need all year long. Residential customers need heating in the winter, air conditioning in the summer, and indoor air quality products all year long. Commercial clients need the same, and depending on the industry, may also require refrigeration installation and service.
Positive Job Outlook: According to the Bureau of Labor Statistics (BLS), the job outlook for HVAC workers is excellent. In fact, employment in this field is expected to grow 13 percent over the next decade, much faster than the average for all occupations.
Incentives For Advancement: Many companies, like T.F. O'Brien, encourage employees to continue with training and take on new roles and responsibilities over the course of employment. On-the-job experience, training and dedication can help technicians advance.
On-The-Job Training: Most HVAC companies encourage their employees to continue with training, and some, such as T.F. O'Brien, provide career development training and advancement opportunities, so you can take your career to the next level.
Career Mobility: People all throughout the country (and the world!) need HVAC. Being an HVAC worker essentially means that you can find employment, no matter where life takes you.
Salary & Benefits: According to the BLS, the average annual wage for HVAC technicians was nearly $50,000 in 2018. Companies like T.F. O'Brien offer additional benefits and incentives to employees, such as paid training, health insurance, and more.
Multiple Career Paths: The HVAC industry is extremely versatile and offers a vast array of career opportunities. Technicians, mechanics and installers can find work in heating, ventilation, air conditioning and refrigeration both residentially and commercially. There is even a need for HVAC technicians in the automotive industry. (Yes, vehicles have HVAC systems!)
Interested in learning more? Contact T.F. O'Brien today.
At T.F. O'Brien, our focus in always on helping our employees succeed, as well as promoting the HVAC industry in the most positive light. We strive to stay up to date on all the latest comfort technology, from smart thermostats to high-efficiency cooling and heating systems, and everything else in between. Our technicians receive the training they need to be successful in their field, as well as comprehensive benefits and a friendly work environment.
To learn more about employment opportunities with us, click here or give us a call at 516.488.1800.