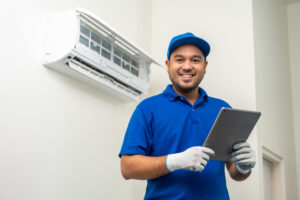 Now that the cooler weather has arrived, homeowners have turned their thoughts to keeping their homes warm and cozy. Whether they own a furnace, boiler, or heat pump system, they want to know that they can rely on their heating contractor to meet their needs, from annual maintenance and repairs to system replacement.
A reliable contractor offers a complete listing of services, as well as quality replacement equipment and any ancillary products, such as filters or indoor air quality equipment. In this article, we'll outline the services you need to ensure that your home heating system is ready to keep you and your family warm all winter long, and we'll explain how T.F. O'Brien can help. Keep reading to learn more!
Heating Maintenance
Heating maintenance is one of the most important services an HVAC contractor can provide for their customers. That's because seasonal preventive maintenance is vital for heating system effectiveness and efficiency. When properly maintained, a heating system will likely last much longer than a neglected system. And, annual heating system maintenance helps to keep any manufacturer warranties intact, so customers will have less worry about out-of-pocket expenses should the system need repairs. Your contractor should be able to provide yearly maintenance, as well as ancillary services throughout the year, such as filter recommendations and replacement.
Heating Repair
If you've had annual maintenance on your furnace, boiler, or heat pump, the need for repairs will generally be less frequent, and usually less costly because maintenance helps to catch any small issues before they become large, more expensive ones. However, like any type of complex machinery, a home heating system is likely to need some sort of repair service during its lifespan. A good heating contractor will be able to troubleshoot your system, make recommendations as to what the best repair options might be, and complete your repairs promptly. And, if the system is beyond repair, or repairs will likely be extremely expensive, your contractor should be able to recommend an appropriate replacement solution.
Heating Replacement & Installation
Most heating systems can be expected to last between 10-20 years. The better it has been maintained, the longer you can expect your heating system to last. When it's time to replace your system, it's important to choose a contractor who not only provides quality equipment and expert installation but can also help you get any other heating service you might need. An experienced contractor can help you choose the best system for your home, budget, and lifestyle needs, and can make sure the system you choose is properly sized for your home.
T.F. O'Brien offers complete heating services for your home.
You can rely on T.F. O'Brien to provide you with the heating solutions you need to stay comfortable, no matter how chilly it gets outside. Our skilled technicians can provide maintenance and repair on a wide range of heating system brands and types, so whether you have a furnace, boiler, or heat pump system in your home, we can help you keep it maintained properly, and make any repairs, should you need them. And, when the time comes to replace your heating system, we're pleased to offer you equipment from brands you can trust. Plus, we offer a wide selection of replacement filters in our online filter store, so you won't have to deal with finding a replacement for your dirty filters again.
When you need heating services for your home, count on T.F. O'Brien to help. Just give us a call at 516.488.1800 and we will be more than happy to answer any questions you may have and to schedule an appointment with you.