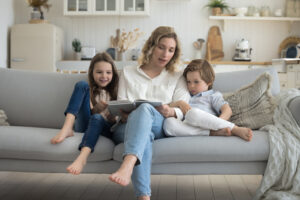 Have you been thinking about replacing an old home comfort system, but are interested in newer technology and higher energy efficiency? Then it might be time for you to consider a heat pump system. While heat pumps have been around for a while, many people in the Northeastern part of the country are just learning about their many advantages.
That's because for a while, heat pumps weren't made to operate in cooler climates. But, over the years they have advanced and are now cold-climate capable, making them a great choice for home comfort even in areas where the temperatures can dip down significantly during the winter months. In this article, we'll explore the benefits of heat pump systems, and tell you how T.F. O'Brien can help you get the right heat pump model for your home. Keep reading to learn more!
5 Benefits of Heat Pump Systems
Most people who are interested in heat pump technology for their homes scour the web for information. We've made it easy for you to explore some of the benefits of heat pump systems, including:
Year-Round Comfort: For many homeowners, the main attraction of a heat pump system is that it offers cooling and heating all in one system, so they don't have to replace two separate units. During the summer months, the system extracts the heat inside your home and pumps it outdoors. In the winter months, the process is reversed, drawing heat from outdoor air, and pumping it into your home.
High Efficiency: One of the main benefits of a heat pump system is their high efficiency. According to the Department of Energy, today's heat pump can reduce your electricity use for heating by approximately 50% compared to electric resistance heating such as furnaces and baseboard heaters. They also mention that high-efficiency heat pumps also dehumidify better than standard central air conditioners, resulting in less energy usage and more cooling comfort in summer months. That means you'll save money on your utility bills, all while enjoying improved comfort all year long.
Clean Comfort: For those concerned about the environment, a heat pump system is ideal. That's because heat pumps don't use fossil fuels to heat your home. As the world looks toward renewable energy and cleaner cooling and heating, heat pumps are considered a much more earth-friendly option for home comfort.
Multiple Configurations: Heat pumps are available in many different configurations, including air-sourced and geothermal. Additionally, they are available in both ducted and ductless That means, if you're replacing a central heating and air conditioning system, a ducted heat pump is the ideal choice. If your home doesn't have a duct system and you want to replace old electric baseboard heat and window AC units, ductless is a great option.
Excellent Incentives: Because of their energy efficiency and cleaner operation, there are often excellent incentives available for heat pump systems. For instance, NYS Clean Heat and PSEG offer incentives on heat pump installation, and there are incentives available through the Inflation Reduction Act as well.
How can T.F. O'Brien help me get a heat pump system for my home?
At T.F. O'Brien, we know how important it is for our customers to be comfortable while enjoying better energy efficiency in their homes. That's why we're pleased to offer heat pumps in both ducted and ductless configurations. When you work with us on a heat pump system for your home, we'll make sure you get the right model for the size of your home and your unique needs. We can help you learn more about taking advantage of various incentive programs. And, we'll provide you with professional installation of your new system, as well as maintenance so that it lasts a long time.
If you'd like to find out more about heat pumps, all you need to do is give us a call at 516-488-1800, and we will be more than happy to assist you.