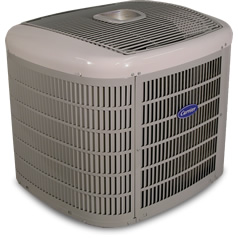 When it comes time to replace your home's heating system, you should know you have options that are cleaner, more efficient, and don't use gas or oil. These innovative systems actually extract the heat from the air or the ground, and bring it into your home. That way, you won't need to worry about gas being piped in, or fuel oil deliveries. You and your family will just be able to enjoy year-round comfort.
Wait, year-round comfort? But I don't need heating in the summer.
That's just another benefit of installing a heat pump system. The beauty is, in the summer months your heat pump will actually cool your home. Just like they extract heat from the ambient air in the winter and pump it into your home, in the summer months, they can extract heat from your indoor air and pump it outside. So, heat pumps really are the complete package deal – one that can keep you comfortable and provide you with maximum energy efficiency.
But I've heard heat pumps don't work well in cooler climates.
People in the south have been using heat pumps for their home comfort needs for years, but for us northerners, heat pump technology hasn't been as accessible. That's because up until a few years ago, heat pumps weren't made to operate in the cooler weather like we get here on Long Island. But in recent years, advancements have been made that allow for cold climate heat pump technology, so now even those of us who experience all four seasons can enjoy the benefits that come with owning a heat pump system.
Okay, let's talk more about the benefits.
Most people who own a heat pump system will tell you that the top benefit is energy savings, because that translates into savings on their utility bills. Heat pump systems are extremely efficient; in fact, they're one of the most energy-efficient ways to heat and cool your home on the market today.
Additionally, they're much better for the environment, because they don't rely on any type of fossil fuel to work. While they do use refrigerant, it is an environmentally sound formula that does not harm the ozone layer. And, as we mentioned above, heat pump systems can keep you warm in the winter and cool in the summer, eliminating the need for separate heating and air conditioning systems.
I have baseboard heating in my home and no ductwork. How can a heat pump help me?
For homeowners that want to replace their heating and cooling, but don't have ductwork, ductless systems are available. Using heat pump technology, a ductless system is comprised of single units installed in zones throughout your home, or in spaces that may not have access to existing ductwork. Because each zone can be controlled based on the heating and cooling needs of that specific space, most people find that ductless systems provide exemplary comfort and efficiency. While some are available for cooling only, there are systems that also provide heating, making them the perfect choice for year-round comfort.
Who can help me learn more about heat pump heating and cooling?
You've come to the right place! At T.F. O'Brien Cooling & Heating, we make it a priority to stay up-to-date on the latest in home comfort technology, so we can provide our customers with the very best and most efficient products. And, our expert technicians never stop learning, so they always provide you with highly skilled installation and service.
To find out more, just give us a call at 516.488.1800, and we will be happy to help.