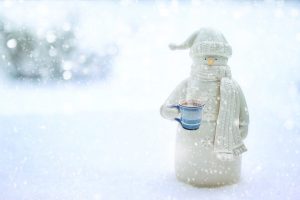 You know your employees and customers complain when the air conditioning system isn't keeping your business cool enough in the summer. They'll also be unhappy when winter's chill hits and the heating system isn't up to snuff. Chances are, you don't have snow people on your payroll. So, you'll need to make sure your commercial space is adequately heated once the snow starts flying. What are some factors you need to take into account when heating your building?
Your top priority should be effective and efficient HVAC design for your building. You might be thinking, "Wait! I thought the top priority was customer and employee comfort!" Well, a properly designed HVAC system will allow for the right commercial heating in your space – and that will lend itself to that comfort everyone desires. According to the National Institute of Building Sciences, HVAC systems account for 39 percent of the energy used in commercial buildings in the United States. They offer that the use of high-performance HVAC equipment can provide both energy efficiency and cost effectiveness, and when coupled with whole building design considerations, improved comfort and indoor air quality will naturally follow.
It sounds like commercial heating is complicated, but it doesn't have to be.
Of course, commercial heating and building design can get complex. And if you're not in the HVAC business, the chances are pretty good you're going to rely on an expert to help you. At T.F. O'Brien, we never want you to have to worry about heating or cooling your building. We are highly trained HVAC professionals with the credentials you can count on for your commercial heating needs. Our technicians don't just come into your business and install a boiler; we have engineers on staff that take your whole building into account before recommending the appropriate commercial heating installation for your space. We offer complete commercial heating services for both boilers and furnaces, including installation and repair.
And, once winter disappears we won't – we also offer the best commercial cooling products and services as well. We're pleased to offer a full range of commercial services including:
With the right commercial heating, your employees won't have to wear parkas in the office – and will be much more productive than they would be shivering around the coffee maker all day. And the more productive your employees, the better it is for your bottom line.
For the best commercial heating services for your business or organization, count on T.F. O'Brien to meet your needs. We're pleased to service all of Long Island, including Nassau County, Suffolk County and Brooklyn. Just give us a call at 516.488.1800 or fill out our convenient contact form, and we'll be happy to assist you.