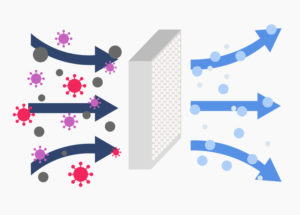 As our area of the state reopens, there are guidelines we as residents are required to follow. Mask-wearing, social distancing, and staying home if we're not feeling well are all some of the ways the average citizen is responding to the COVID-19 crisis, but for businesses, some additional rules and guidelines must be followed.
Recently, Governor Cuomo issued a mandate that requires buildings such as malls to follow proper ventilation protocols. As part of this, the building's HVAC (heating, ventilation, and air conditioning) system needs to be fitted with filters that provide a minimum of MERV 11 filtration with the caveat that MERV 13 filtration is preferred.
As an HVAC contractor, we understand the importance of proper filtration concerning the coronavirus, but also recognize that the layperson might not know what MERV even is. While it sounds like a guy's name, the first thing we'd like to point out is that MERV isn't a person, and he hasn't created a rating system for air filters. MERV stands for Minimum Efficiency Reporting Values, a rating developed by the American Society of Heating, Refrigerating, and Air Conditioning Engineers (ASHRAE).
Why should building owners pay attention to the MERV level their filtration system offers?
According to the Environmental Protection Agency (EPA), "MERVs report a filter's ability to capture larger particles between 0.3 and 10 microns." Understanding this value is helpful when comparing the effectiveness of different air filters. And, the higher the MERV rating is for a filter, the better it is at trapping certain particles. So, by installing filters with a higher MERV rating, buildings are better able to ensure better, cleaner air circulating throughout.
It should be noted, however, that there is much unknown about COVID-19. While there are other coronaviruses, such as MERS and SARS, COVID-19 is a new form of the virus. Therefore, taking measures to protect yourself is still important, even when you're in buildings that have advanced MERV filtration.
Should I install a filter with a higher MERV level in my home?
People are wondering if they should have higher filtration in their homes. As an HVAC contractor, we can help both residential and commercial customers get the appropriate indoor air quality (IAQ) products for their needs. For your home, working with T.F. O'Brien is the best way to ensure you have the proper IAQ equipment to keep your air cleaner and healthier.
Generally speaking, residential HVAC systems can't quite handle MERV 13 level filtration, because such filters require air to be moved much more forcefully than most home furnaces are capable of. However, we offer several different types of residential IAQ products that can effectively reduce and eliminate particles such as allergens, bacteria, and viruses from your home's air.
Want to learn more about how T.F. O'Brien can help with your home or business's air quality needs? Give us a call.
T.F. O'Brien takes the health of our clients and our employees very seriously. That's why we're following stringent CDC guidelines, to ensure your utmost safety. Click here to find out how we're making every effort to keep you safe. And, to learn more about how we can improve the air quality in your home or office, give us a call at 516.488.1800, and we'll gladly schedule an appointment with you.