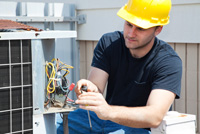 The ideal time for air conditioner maintenance is in the spring, so your system is functioning at its highest level of efficiency before the summer heat arrives.
Cooling your home is the biggest energy consumer you'll face this summer and making sure the A/C runs at peak performance will lower cooling costs and may extend the life of your unit.
Most homeowners can tend to basic maintenance by inspecting and cleaning these three main areas:
Air handler
Clean or replace dirty filters. Check filters on a monthly basis for impacted dirt, which hinders the airflow to the evaporator coils.
Clean the evaporator coils. Dirty coils will slow the cooling process and cause the unit to run longer to cool the air.
Examine the coil fins. Straighten fins that are bent. Bent fins will restrict airflow to the coils.
Check the condensate pan and drain. Remove dirt that blocks the release of water to the outdoors.
Outdoor condenser
Clear the area of leaves, dirt, twigs, grass and debris that's collected around the condenser during the winter months. Gently spray the coils and fins with water to remove dirt on the unit. Straighten any bent fins hindering the heat release process.
Check refrigerant lines for kinks or leaks and contact a professional to repair any leaks.
Ductwork
Look for splits or cracks in your ductwork. A handy homeowner can complete simple repairs, but contact a professional for bigger issues. There may be hidden problems that only an expert technician can recognize. Have necessary repairs done before they turn into more expensive problems.
Inspect insulation on ducts and replace any damaged or worn insulation.
As a homeowner, you can tend to minor maintenance, but consider investing in an air conditioner maintenance program, which schedules annual cleaning and inspections. An extensive inspection and cleaning of your unit on a regular basis will keep your unit running smoothly and turn up problems before they turn into major issues.
If you live in the Long Island area and have questions about air conditioner maintenance, contact the experts at T.F. O'Brien Cooling & Heating. We're proud to serve homeowners throughout the Long Island area.
Our goal is to help educate our customers about energy and home comfort issues (specific to HVAC systems).  For more information about other HVAC topics, download our free Home Comfort Resource guide.
Image via Shutterstock.com