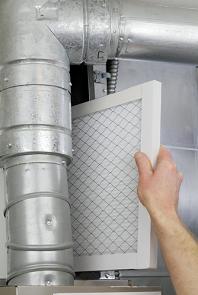 When the cooling season gets into full swing, it's time to make sure your furnace is in proper working condition. Scheduling preventive maintenance for your furnace is important, but so is changing the furnace filter.
Your furnace works hard for you on a daily basis to provide a continuous flow of heated air through the ducts in your home. To maintain continuous function and good, healthy  air quality in your home, it is necessary to change the furnace filter regularly.
Why should you change the furnace filter?
The filter in your furnace collects pollutants and allergens such as dirt, dust, mold spores, mites, bacteria, pollen and pet dander, if you have a pet. Over time, these pollutants clog the filter, preventing it from catching more pollutants and allergens. As a result, pollutants may bypass the filter, allowing them to enter your home through the vents, decreasing indoor air quality.
A full filter also puts a strain on the blower, causing it to work harder. Once the filter becomes full, it restricts the necessary flow of air through the media device, inhibiting the healthy function of the furnace. With a reduction in airflow, you may find that energy bills increase, because the blower will have to work harder to compensate. A full filter may also cause overheating and burn out the blower motor. If this happens, your  furnace will need repairing or replacing, depending on its age and condition.
One final problem: A dirty furnace. Dirt that's allowed to get around the filter finds a resting place inside the furnace, wreaking havoc on its potential to operate efficiently.
How often should you change the filter?
Industry experts recommend changing the filter in your furnace a minimum of every three months, but it may be beneficial to change your filter more often. Having a clean filter is one of the best ways to promote good indoor air quality, and ensure that your furnace remains in good working order throughout the winter, when the system is clean and ensures optimal airflow.
You can find more expert HVAC advice on furnace filters, and other home maintenance tips, by contacting T.F. O'Brien Cooling & Heating. Serving Long Island and the surrounding areas.
Image via  Shutterstock.com