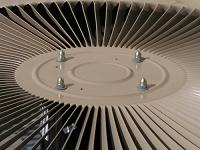 Cold, snow and ice is an expected part of your life in the Long Island area during the winter. If your heating system includes an outdoor heat pump, you can expect ice or frost to form occasionally on the system coils. However, if your heat pump should become completely covered by ice, immediate attention is required.
Heat pumps are equipped with a defrost cycle which will engage to rid the coils of small amounts of ice or frost. The defrost cycle will typically run for two to 10 minutes before returning to normal heating mode. When this switch occurs, you'll typically hear a whooshing sound and see a small water vapor cloud rise from the outdoor unit.
If your heat pump is not properly defrosting, there are several possible causes. A typical homeowner can address some of these, while others will require a trained service technician.
Heat pump troubleshooting techniques
Make sure the area under and  around the outdoor unit is not blocked. Clear away leaves or snow drifts.
Check to determine if the unit has sunk into the ground. This could keep melted ice or snow from draining away from the unit.
Ice buildup can be caused by a leaking gutter or misdirected drain spout. Fix or replace the gutter and direct all drain spouts away from the unit.
Freezing rain and/or ice storms can encase the entire unit. Turn off the unit and use a garden hose to remove the ice.  Never use an ice pick or other sharp object to chip off the ice; coils are easily damaged.
Other possible reasons for ice building up on your heat pump
The unit requires refrigerant charge.
Defrost system relay, control, timer, sensor and/or thermostat isn't functioning and needs replacement.
The reversing valve is sticking or there's a bad valve solenoid coil.
The outdoor fan motor needs to be replaced.
These last items require a skilled and knowledgeable service technician.
For more information or to schedule repair of your heat pump, contact the experts at T.F. O'Brien Cooling & Heating. We proudly serve homeowners in the Long Island area.
Our goal is to help educate our customers about energy and home comfort issues (specific to HVAC systems). For more information about other HVAC topics,  download our free Home Comfort Resource guide.
Image via  Shutterstock.com