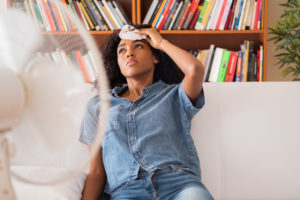 Once the summer heat arrives, the last thing anyone wants to think about is their air conditioning system not working well. A broken-down AC system is certainly never convenient and not a welcome situation on a hot day. However, there are a few signs your air conditioner will give you if it's not working properly that can help you avoid a complete breakdown – and a potentially costly replacement.
In this article, we'll discuss how your AC might be telling you that you need to consider calling for service – and hopefully help you get out ahead of a costly breakdown. Of course, getting your air conditioning system maintained every year is one of the best ways you can prevent a breakdown. By getting preventive maintenance for your system each year, your technician will have a history of your system, and any problems it may have experienced in the past. They'll also perform a proper cleaning and check-up, which will likely show any issues.
Five Signs You May Need AC Repair
As your air conditioning ages, problems can start to spring up that make repairs necessary. While this is normal, it's also important that you address concerns quickly. Here are five ways your air conditioning system might warn you that a breakdown is likely: 
Your home isn't as cool as you'd like. If you find yourself setting your thermostat lower and lower, but you're still not comfortable, it could signal a problem. It could be a problem with your thermostat itself, or it may be a refrigerant or evaporator coil concern.
Your energy bills are on the rise. If your energy bills are unusually high, it could be a sign that your air conditioning system is working harder than it should be. Calling in a technician to troubleshoot can help find any problem and remedy it.
You notice ice on your unit. If you notice ice on your air conditioning system, there is likely a problem that needs to be addressed. It can be as simple as a dirty filter, but it's still a problem that you should call your HVAC contractor to check out.
Your home is more humid than usual. Part of your air conditioning system's job is to help control humidity in your home. If the air in your home is staying uncomfortably humid despite the air conditioner running, it may signal a need for repair services.
There are cold and hot spots in your home. If your air conditioning system doesn't seem to be cooling your home properly, it may be time to call for repairs. While there may be an issue with the ductwork and not your AC system itself, you'll still want to call your HVAC pro for help.
My air conditioning system seems to be asking for help. Who can I call?
Getting your air conditioning system the repair services it needs is as easy as calling T.F. O'Brien. Our professional technicians will be able to troubleshoot your system and see if and where any repairs are needed. Simply give us a call at 516.488.1800 and we will be happy to schedule an appointment with you!