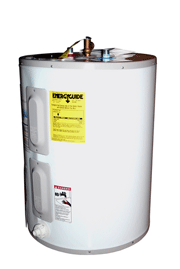 Most homeowners take their water-heating systems for granted, enjoying hot showers and not giving a thought to what's supplying the comfort. But when hot showers turn cold, replacing your water heater may be the only remedy.
Most water heaters come with five- to 10-year warranties, but as with most appliances, the actual life span of a water heater depends greatly on usage and how well you've maintained it over the years.
So if your system's time is up, arm yourself with some helpful tips as you comparison-shop:
Choose an Energy Star-qualified water heater, or those sanctioned by the U.S. Department of Energy as being more proven energy savers and more efficient than models that meet the minimum government standard for efficiency. The EnergyGuide label will clearly tell you the unit's Energy Factor, the efficiency rating for water heaters.
Most water heater tanks range in size from 40 to 80 gallons; 50- to 60-gallon tanks are most common. How do you know how large a tank you need? Work with a certified contractor to help you factor in the number of people in your household, their hot water needs and the amount of hot water the heater can supply every hour.
Consider the cost of gas and electricity. In this regard, you have options, including a heat pump and a tankless water heater. The latter is especially practical if you need to extend your supply of hot water into a new area of the home.
A conscientious contractor will work with you to break down the cost of purchasing and installing your new water heater. Run the numbers to compare the cost of several comparable systems, which generally depends on their efficiency rating and size. You can also evaluate whether it's cost effective to install a system that uses a different fuel than your existing water heater. The installation cost generally depends on the circumstances of the installation – especially if an emergency is involved – and the location of the unit.
When you get ready to narrow your choices and replace your water heater, be sure to call T.F. O'Brien Cooling & Heating. We'll size your new water heater to make sure it delivers years of comfort and savings, exactly as it should.
Our goal is to help educate our customers about energy and home comfort issues (specific to HVAC systems).   For more information about other HVAC topics,  download our free Home Comfort Resource guide.
Image via  Shutterstock.com