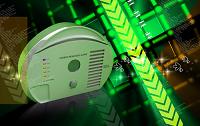 Carbon monoxide (CO) is an odorless, invisible gas that can be emitted from any number of systems that are powered by a combustible fuel, such as ovens, fireplaces, water heaters and furnaces. Using carbon monoxide detectors in the home is vital for ensuring protection against this deadly gas.
Although minute amounts of carbon monoxide may be found in the air, exposure to low concentrations of it over time, as well as high levels of carbon monoxide in the air, can be  harmful or even fatal. Once carbon monoxide is inhaled, the body becomes deprived of oxygen. Tissue damage or death can result from carbon monoxide poisoning. Having at least one carbon monoxide detector in your home can help protect your family in the case of faulty equipment or a carbon monoxide leak.
It is important to not only have carbon monoxide detectors installed in the home, but it's paramount that homeowners understand best practices for using carbon monoxide detectors. Here are some guidelines to follow:
Installing detectors — Have at least one carbon monoxide detector on each floor of your home. Locate one near each sleeping area. Place the detector at least 15 feet from any equipment that burns fossil fuel to avoid false alarms. Detectors should also be at least 5 feet above the floor.
Maintaining detectors — The average life span of most CO detectors is two to five years. Consult the owner's manual for specific guidance for replacement procedures, and keep fresh batteries in your detector at all times.
Evaluating features — The "test" feature on detectors helps homeowners check the viability of the alarm. Some detectors utilize features that indicate when batteries or the device itself need to be replaced, some have a strobe light for the hearing impaired, and others offer digital display.
If you are located in the Long Island area, contact T.F. O'Brien Cooling & Heating for more expert advice on using carbon monoxide detectors. We proudly serve our neighbors with quality HVAC services, including heating and cooling maintenance, installation and repairs.
Our goal is to help educate our customers about energy and home comfort issues (specific to HVAC systems).   For more information about other HVAC topics,  download our free Home Comfort Resource guide.
Image via  Shutterstock.com