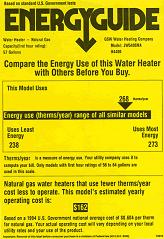 If you've been shopping for new heating or cooling equipment, you have probably run across the EnergyGuide label. This bright yellow tag is full of useful information to help you make a cost-effective purchase.  
Here's how to read the EnergyGuide label so you can use it to maximum advantage.
Make, model and size: The upper right corner of the EnergyGuide label shows you the manufacturer, the model number, and the unit's heating or cooling capacity. That way, you know exactly what equipment the label describes.
Key features: The upper left corner lists important features found in this unit.
Estimated yearly operating cost: This is the amount the average homeowner might pay to operate the equipment for one year. Since it's based on the national average cost of electricity, its primary purpose is to provide a point of reference when comparing the equipment to models with similar features and capacity.
Cost range of similar models: The estimated yearly operating cost lies somewhere along this cost range. The lower the cost is, the more efficient it is compared to other models of the same size with similar features. The initial cost may be more, but lower operating costs can eventually offset the higher purchase price.
Estimated yearly electricity use: With average yearly use, this number shows the amount of energy the equipment consumes. Multiply this number by the electricity rate you pay to better judge your actual operating cost.
Energy Star logo: If you see this in the bottom corner of the EnergyGuide label, that means the unit consumes less energy and is better for the environment than standard models. You'll save money on your energy bills and support a healthier environment by choosing Energy Star-qualified heating and cooling equipment.
Now that you know how to read the EnergyGuide label, you can make a more educated decision when it comes time to purchase new HVAC equipment. For more expert advice on other heating and cooling topics, please contact T.F. O'Brien Cooling & Heating. We are Long Island's best since 1934.
Our goal is to help educate our customers about energy and home comfort issues (specific to HVAC systems).   For more information about other HVAC topics,  download our free Home Comfort Resource guide.
Image via  Shutterstock.com