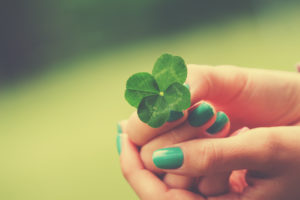 As you know, the arrival of March also means Shamrock Savings at T.F. O'Brien. We make our best offer of the year on quality heating and cooling equipment, helping you save money and get into a better, more efficient system. Of course, the savings are one of the main benefits of our Shamrock sales event, but there are a few other reasons why you might want to consider replacing your equipment.
First, tell me more about the Shamrock sales event. How will I save?
When you purchase a new, high-efficiency system, you'll be eligible for an amazing $4,245 savings. We're bundling together an incredible offer* that makes saving some green easy! Here's how we do it:
FREE Humidifier with Complete Heating & AC System – $895 Value
Manufacturer and Utility Company Rebates – $3,000 Value (on select systems)
12-Year Warranty
FREE Wi-Fi Thermostat – $350 Value
Okay, it looks like I'll save the green! But why should I get new equipment?
There are many benefits to installing new home comfort equipment that go well beyond the money you'll save. Here are five reasons why taking advantage of this offer is a great choice for you and your family:
Your home will be more energy efficient. This is especially true if you currently have old equipment installed in your home. Changes in technology over the past few years have made today's heating and cooling equipment much more efficient that its predecessors. For instance, according to the of Energy, a new furnace could potentially be up to 42% more efficient than an older system.
You'll be more comfortable. Many times, homeowners purchase their homes with the HVAC system already in place. Unfortunately, they may not know the system was not properly sized for the home. If this is the case, you and your family won't get the maximum in home comfort from your system. Installing new equipment with T.F. O'Brien will ensure that your system is sized properly – so you enjoy the best comfort.
Your Wi-Fi thermostat will help your system operate more effectively and efficiently. We've included a Wi-Fi thermostat in our offer not just because we wanted to add on a flashy, fun product. Wi-Fi thermostats provide you with the ultimate control over your system, and allow you to monitor it, even when you're not home. No more running out the door and forgetting to set the thermostat back. If you forget, you can easily access it from your phone or computer, and make those changes wherever you are. Because you have greater control over your system, it will provide you with better efficiency – and ultimately savings on your utility bills.
Your humidifier will help keep your home much more comfortable. Running the heat in the winter can dry out your home – and you. Keeping a proper moisture level will keep your skin from getting too dry, as well as your nose and throat, because the moisture levels will stay at the right level for optimal home comfort. And, you won't have to worry about creaking floorboards and furniture.
You'll avoid costly breakdowns. If your system is getting on in years, the chances that it will need repair services in the (potentially near) future increase. Depending on the type of repairs needed, it could become very expensive to keep your system working properly. Not to mention, old heating and cooling systems are likely very inefficient as well, so between repair needs and spending more than you have to on energy, costs can add up.
Alright, let me know how I can take advantage of Shamrock Savings.
That's the easy part! All you have to do is give us a call at 516.488.1800, and we'll be happy to schedule an appointment with you. But you have to act quickly – our Shamrock sales event ends on St. Patrick's Day – March 17, 2020. Give us a call today and let us help you get into better comfort and better efficiency this March!
* Ask us for details about the different financing options available with credit approval. Restrictions may apply. Total savings shown: $895 Humidification System, 12-year warranty, $350 Wi-Fi Thermostat, and $3,000 manufacturer and utility rebate available on select systems. Ask dealer for details. Offer Expires 3/17/20.