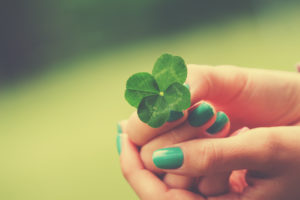 At T.F. O'Brien, you know we're all about Irish pride. Our name says it all, as well as our annual Shamrock Savings event. We love St. Patrick's Day, and sharing the love with you! Have you ever wondered where some of the traditions of the holiday come from?
For adults, much of the St. Patrick's Day festivity includes a dinner of corned beef and cabbage, and possibly imbibing in some green beer. For kids, enjoying a bowl of Lucky Charms cereal and trying to capture the elusive leprechaun are part of St. Patrick's Day tradition. Learn more about these St. Pat's standbys below.
Five St. Patrick's Day Traditions and Legends Explained
Leprechauns: Leprechauns go all the way back to the 8th Century, and their beginnings are rooted in tales of water spirits known as luchorpán. These wee people were known for their love of imbibing, as well as shoe making. Legend has it that if you capture a leprechaun, they'll grant you three wishes if you set them free.
Corned Beef & Cabbage: Enjoying corned beef and cabbage on St. Patrick's Day is actually an entirely Irish-American tradition, Delishably In Ireland, the dish is primarily bacon and cabbage, but Irish immigrants found that corned beef was easier to find and cheaper in America. And there is no corn in corned beef – "corned" refers to the size of the salt used in the curing process.
Pot of Gold: Directly related to leprechaun mythology, the tale of the pot of gold at the end of the rainbow is also associated with St. Patrick's Day. This legendary pot of gold is where the leprechauns store their coins, and humans often try to catch a leprechaun to gain access to it. However, leprechauns are pretty tricky, so that pot of gold tends to be rather elusive!
Green Beer: According to Food & Wine, green beer comes from an Irish tradition of adding shamrocks to beverages on St. Patrick's Day. Green beer was created by Dr. Thomas Curtin in 1914, for a St. Patrick's Day party at the Schnerer Club in the Bronx. While nobody knows what was in that original recipe, blue food coloring is what gives modern green beer its verdant hue.
Lucky Charms: Lucky Charms cereal came about in 1964, and was the first cereal to include marshmallows. Lucky the Leprechaun, the cereal's mascot, has been there from the get-go, although he's also been known as Sir Charms and L.C. Leprechaun over the years. The original marshmallow charms were pink hearts, yellow moons, orange stars and green clovers.
Getting the right home comfort solutions isn't the luck of the Irish, though.
You don't need a leprechaun's wish in order to get the home comfort solutions you need – you just need to give T.F. O'Brien a call. We can help you get the necessary heating and cooling services to keep your home and your family comfortable all year round. And, we're happy to share with you a little pot of gold if you need a new system – ask us about our Shamrock Savings event, and how we can help you save up to $4,245 on a new high-efficiency HVAC system.
Call us at 516.488.1800 to learn more. Happy St. Patrick's Day to you and yours!