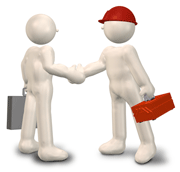 When your home comfort system isn't working properly, it can be very stressful. You may be concerned about the cost to repair it, as well as how to find a qualified and trusted company to make the repairs. No matter the issue, from preventive maintenance to a cracked heat exchanger , hire an HVAC company that has an Air Conditioning Contractors of America (ACCA) membership. With that, you know your system is in good hands.
ACCA memberships
Here's the scoop on ACCA memberships, which:
Include a QA accreditation program designed around ANSI standards. When you choose a QA Residential Service and Installation-accredited company, you'll know they have successfully completed a rigorous training program to become some of the nation's best HVAC technicians.
Give contractors the opportunity to take continuing education that will keep their skills compatible with the newest equipment available.
Offer its members the ability to become EPA Section 608 certified, which is required of everyone who handles refrigerant. The ACCA EPA Section 608 certification program is the oldest and best of its kind.
Offer classes to members for NATE certification, the industry standard to show technician excellence.
When you hire an HVAC specialist who's an ACCA member, you can rest assured that your home comfort needs will be met with superior skill and state of the art design, installation and equipment.
For more information on the benefits of choosing an HVAC company with ACCA membership, feel free to contact our experts at T.F. O'Brien Cooling & Heating. We have been serving Long Island homeowners since 1934.
Image via Shutterstock.com