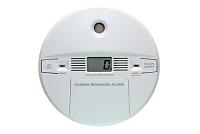 Carbon monoxide is a poisonous gas that's colorless and odorless, making it impossible to know if you've been exposed without the use of carbon monoxide detectors.
To help prevent carbon monoxide poisoning, ensure your family's safety at home with these tips.
When you purchase carbon monoxide detectors, make sure to install one near every sleeping area inside your home. Also ensure that the alarm isn't covered up by any potential obstructions.
Don't burn charcoal in any indoor areas such as a garage or house.
Don't leave cars running inside your garage for too long, even if the garage door is open. This is a common cause of CO poisoning.
When operating natural gas or propane ovens, don't cover the bottom with any material, such as aluminum foil. This blocks airflow within the appliance and could result in the production of carbon monoxide.
If you're not a professional, don't attempt to install certain appliances. You should always consider contacting a qualified professional to install most appliances for you. In addition, you should have most appliances professionally checked and serviced to ensure that they're operating properly.
Don't use gas-powered appliances, such as ranges or ovens, to heat your home. For heating purposes, use a regular electric heater, as they don't produce harmful fumes.
When renovating your home, make sure that chimneys and vents aren't covered up by debris or tents. Once you have completed the renovations, you should also make sure that all appliances work as they should.
For more information about carbon monoxide detectors and how to protect your family from this silent but deadly gas, contact the pros at T.F. O'Brien Cooling & Heating. We've been serving the Long Island area since 1934.
Image via Shutterstock.com