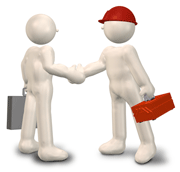 Why do so many people worry when hiring an HVAC contractor? Perhaps it's because a home's heating and cooling system is a key element when it comes to keeping your home happy and healthy.
To find the right contractor for your home, follow these eight simple tips:
Educate yourself – Before you begin your search, check with your local government to find out the license and insurance requirements that a contractor must meet.
Ask around – Your first inquiry should be directed at people you know, such as family and friends. Some of them may recommend a reputable technician that you can contact.
Contact references – One of the best ways to find out about the capabilities of an HVAC contractor is to ask him or her for a short list of references, and then contact each one for an opinion.
Obtain multiple estimates – Getting more than one estimate will give you a choice between contractors. Don't solely go by price, however.
Ask about discounts – Contractors are known for offering discounts at various times throughout the year. It never hurts to ask about current specials or check on their websites.
Expect an evaluation – A home evaluation is an important part of the process once you've hired a contractor. Elements such as energy efficiency, ductwork and air leakage will be checked, and any problems will be pointed out.
Get a written contract – It's very important that you have a written contract in hand before any work's performed so you know how everything will proceed.
Insist on Energy Star products – When new heating or cooling equipment is being installed, it makes sense to choose units adorned with the Energy Star label to ensure maximum efficiency.
For more expert advice when hiring an HVAC contractor, or for questions relating to home comfort, please contact the friendly professionals at T.F. O'Brien Cooling & Heating. We've been serving the HVAC needs of Long Island since 1934.
Image via Shutterstock.com