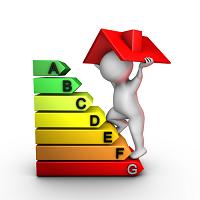 As the weather turns colder, people living on Long Island start thinking about simple maintenance tasks they can perform that will benefit them once winter weather really sets in. Making improvements in and around your home can save you money by boosting your home energy efficiency and can help protect your investment in your home.
Weatherstripping and caulking
In addition to ensuring that your home is sufficiently insulated, one of the keys to achieving maximum home energy efficiency is to reduce air infiltration in the home. Check the existing weatherstripping and/or caulking on door and window frames. Replace any that is damaged or worn. At the same time, check the efficiency of the seal around areas like the door leading to your attic space, wall joints and utility access points.
Attic and roof
Check your attic and roof for air leaks. Small holes can be filled with caulking, while larger gaps can be filled with expanding foam spray. If you have serious roof issues or leaks, you should consult with a professional roofer. One of the best ways to help protect your roof from serious damage is to keep it clear of leaves and other debris that might block the gutters and lead to ice dams and backups.
Testing your furnace
To ensure that your furnace system can operate over the long winter season in Long Island, schedule furnace maintenance now. Your heating technician will perform a comprehensive inspection and cleaning of the system, and the service also ensures a better-performing furnace over the duration of the season, as well as lower energy bills.
Leaky pipes and drains
Check all of your plumbing pipes, fittings and faucets, including connections to the hot water heater, for leaks. Performing this check now before freezing weather sets in can help protect you from burst pipes and an expensive visit by a plumber. Also, make sure that all lines that drain from the home are unobstructed.
Performing a few simple home maintenance tasks is one of the keys to home energy efficiency over the winter. If you have any questions, please contact  T.F. O'Brien Cooling & Heating. Serving our Long Island neighbors since 1934, we're happy to help.
Image via  Shutterstock.com